Welcome to the official website of the 29th World Mountain Running Championships 2013 in Krynica Zdrój
We hope that the competition and stay in the most famous mountain resort in Poland will bring you many positive impressions and most of all a lot of satisfaction from sport.
---
---
---
MŚ w Biegach Górskich: Przeżyjmy to jeszcze raz
Mistrzostwa po raz pierwszy zgromadziły na polskiej ziemi najlepszych z najlepszych biegaczy górskich świata, reprezentujących 40 krajów członkowskich Światowej Federacji Biegów Górskich (WMRA). Odbywający się w ramach Mistrzostw Kongres WMRA wyłonił nowy zarząd organizacji oraz gospodarzy kolejnych imprez mistrzowskich rozgrywanych pod auspicjami federacji.
Ceremonia rozpoczęcia
W sobotnie popołudnie na krynickim Deptaku zaprezentowały się wszystkie drużyny uczestniczące w mistrzostwach. Uczestnicy i kibice Festiwalu Biegowego przywitali zagranicznych gości gromkimi oklaskami.

Kongres Światowej Federacji Biegów Górskich
Obradujący w sobotnie przedpołudnie delegaci WMRA wybrali nowy zarząd federacji. Przez kolejne cztery lata będzie jej przewodził dotychczasowy prezes Włoch Bruno Gozzelino. Podjęto też decyzje, że gospodarzem przyszłorocznych mistrzostw, rozgrywanych tym razem w stylu alpejskim, będzie włoska miejscowość Casette di Massa. Na gospodarza mistrzostw w 2015 r. wybrano z kolei walijskie Betws y Coed. Przyszłoroczne mistrzostwa świata w biegu górskim długodystansowym zorganizuje 16 sierpnia amerykańskie miasto Manitou Springs. Impreza odbędzie się w ramach 59. edycji słynnego Pikes Peak Ascent. Mistrzostwa świata Masters zorganizuje 6 września austriackie Telfes.

Mistrzowskie biegi
W rywalizacji elity mężczyzn tytuł był wewnętrzną rozgrywką biegaczy z Ugandy. Zwyciężył Phillip Kiplimo. Srebrny medal przypadł Geoffreyowi Kusuro, brąz Nathanowi Ayeko. Najlepszą seniorką mistrzostw została zaś Włoszka Alice Gaggi. Zdobywając złoty medal Włoszka sprawiła sobie najmilszy prezent urodzinowy.
Włoskim triumfem zakończył się także bieg juniorów. Na nieco ponad 9-kilometrowej trasie wiodącą pięknymi, ale i piekielnie trudnymi zboczami Jaworzyny Krynickiej bezkonkurencyjny okazał się Nekagenet Cripp. Najlepszą juniorką została zaś Amerykanka Mandy Ortiz.
W klasyfikacja drużynowych zwyciężały: Uganda (elita mężczyzn), Włochy (elita kobiet), Czechy (juniorzy) i Wielka Brytania (juniorki)
Ceremonia zakończenia
Ceremonia rozdania medali mistrzostw odbyła się na krynickim Deptaku. Były narodowe hymny i gromkie brawa kibiców. Gratulując sukcesów prezesi Bruno Gozzelino (MWRA) i Jerzy Bochyński (Fundacja Instytut Studiów Wschodnich – organizator zawodów) wyrazili nadzieję, że mistrzostwa zawitają znów do Polski i do Krynicy-Zdrój.
---
Uganda and Italy dominated the XXIX Word Mountain Running Championships in Krynica-Zdrój, Poland
Two day of mountain running fest in Krynica-Zdrój come to an end. 329 athletes from 39 countries competed in four championship races in four categories on Jaworzyna mountain in front of Running festival participants and fans. Favorites took the medals, but the event had nothing to do with monotony.
The course
Polish organizers did everything to make the races as interesting as they could be. "Unusuall", "differential", but fore and foremost: "challenging" or "difficult" were the word used by most of the runners on the finish line when giving interviews. There were faints on the finish line, twisted ankles and ragged skin, but no serious injuries occurred. Local medical team did really well and all of runners returned home in good health condition.
The competition
It was extremely interesting. The best rhythm found the Italians. Nekagenet Cripp is the best junior mountain runner in 2013, as is Alice Ganggi in women elite. For Alice it was the best birthday gift ever – she was turning 26 on the day of championship race.
Elite men race was dominated by Ugandan runners. Phillip Kiplimo was the winner, but Geoffrey Kusuro, Nathen Ayeko and Peter Kibet were not far away. "The battle was fair. I'm extremely happy with the result, because I was the last runner to be elected to the team for polish championship. Now I'm the number one" – said Phillip Kiplimo jus after gaining the biggest success in his running career.
Gold medal in junior competition won Mandy Ortiz from USA.
There were four countries with gold medals in team competition – Uganta was the best in elite men, Italy in elite women as Czech Republic and Great Britain won junior team competition, in men and women respectively.
In total 10 countries won medals and five of them gold. Italy was the most successful Country in the medal table with three gold medals, two silver medals and one bronze. The Czech Republic and USA had one gold medal each. The other 5 countries who won medals were Turkey with one silver and two bronze; Slovenia one silver and Austria, Russia and Ireland with one bronze medal each.
The Running Festival
The championship was the part of the biggest running event in Poland. This year was the best for the Festival – over 8 000 people competed in 30 distances, form 1 mile to 100 km ultra. Foreign runners did not feel alone among Festival participants and fans as the opening ceremony with flag parade was held in front of the people and many of them went to the Jaworzyna Moutain to support MRWCh participants. Great applause for runners is the factor to be remembered from Krynica-Zdrój. The award ceremony was held on Festivals scene located on Krynica's Promenade - the heart of Festival, and all festival participants and fans got to know who really the winners are.
Important decisions in mountain running world were made on the WMRA Congress
It took place in Krynica-Zdrój. 40 of 43 member countries and IAAF officials were present. Casette di Massa in Italy was elected as the host of the 30th WMRCh host in 2014, as Betws y Coed in Wales will host the 31st edition of the championship in 2015. 11th WMRA Long Distance Mountain Running Challenge will be held at Manitou Springs (USA) on next 16th August 2014 together with 59th Pikes Peak Ascent and 14th WMRA/WMA Master World Mountain Running Championships will be organised at Telfes (Austria) on next 6th September 2014.
Bruno Gozzelino was re-confirmed as the President of WMRA for another 4 years, Nancy Hoobs is the new-old WMRA Treasurer. Welshman Adrian Woods GBR was elected as the New WMRA Secretary, Pole Andrzej Puchacz, manager of polish team and master of ceremony at Jaworzyna Mountain, replaced Italian Raimondo Belicco in WMRA Council.
An event to be remembered
XXIX Word Mountain Running Championships in Krynica-Zdrój it definitely the event to be remembered. "I'm satisfied with services provided by the Local Organizing Committee. Especially I would like to than Mr. Zygmunt Berdychowski, the president of LOC and initiator of the Running Festival and Malopolska region authorities for making the championship atmosphere warm and friendly – said WMRA President Bruno Gozzelino.
"We are proud what we achieved altogether. The Championship was great in terms of organization, competition, atmosphere and promotion of mountain running in Poland and all over the world. You are all welcomed in Krynica-Zadrój in the future" – said Zygmunt Berdychowski.
---
---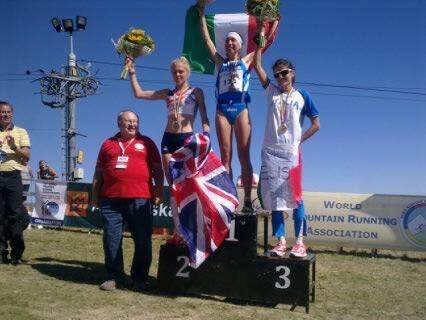 Phillip Kiplimo has become a new world champion in Anglos-Saxon style. The title was won as a result of internal competition among runners from Uganda, but they said at the finish line that the competition was fair. Silver medal was won by Geoffrey Kusuro, and bronze by Nathan Ayeko.
Alice Gaggi scored a triumph in senior women category in World Mountain Running Championships in Krynica-Zdroj, which proved to be the greatest birthday present. It is already second medal for Squadra-Azzura team in this championships. The silver medallist became Emma Clayton from the United Kingdom, and the bronze medallist is Elisa Desco from Italy.
---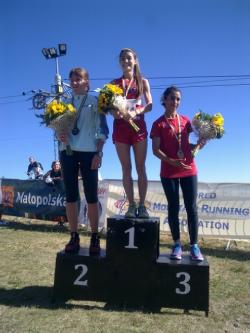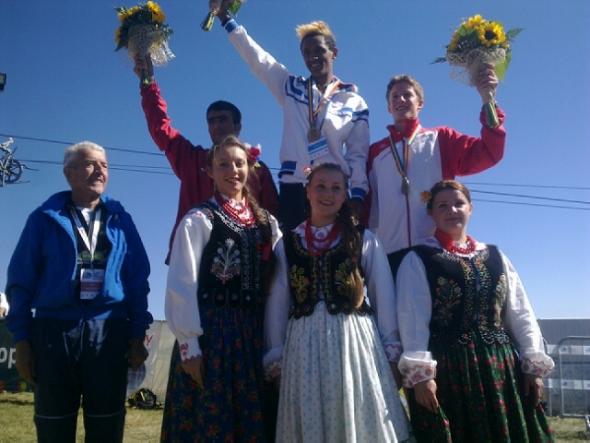 Many Ortiz from the USA became the junior world champion in mountain running in Anglo-Saxon style. The second position was gained by a representative of Slovenia, Lea Einfalt. The bronze medal and second vice-champion title was won by Tubay Erdal from Turkey.
The golden medal of World Mountain Running Championships in Anglo-Saxon in junior category will go from Poland to Italy. Nekagenet Cripp from Italy proved to be unbeatable on a slightly longer than 9-kilometer route along beautiful, but extremely difficult slopes of Jaworzyna Krynicka Mountain. Silver medal was won by the favourite of this race, Ramazan Karagoz from Turkey, while bronze medal went to Manuel Innerhofer from Austria.
---
Champions of mountain running have arrived to the start line in Krynica-Zdroj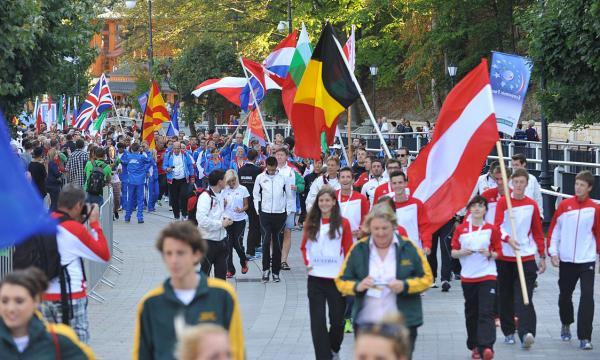 "I declare open the 29th World Mountain Running Championships". The words of Bruno Gozzelino inaugurating the championships in Krynica contained the Olympic reference not without a reason. The ceremony, which took place today just after 5 p.m. on Krynica's Promenade included a parade of national teams with flags, the national anthem of the organizing country and official speeches. The national team of the host country traditionally met with the loudest applause.
The ceremony, led by Andrzej Puchacz, a new member of the Board of the World Mountain Running Association (WMRA) for competitions and a manager of Polish team, was attended by delegations from all 40 countries participating in the championships, including also delegates to the WRMA Congress, whose teams were absent during the championships this year.
The host of the championships was represented during the ceremony by the Mayor of Krynica, Marek Resko, a representative of Malopolskie Voivodeship Office, Waldemar Kordyl and Zygmunt Berdychowski, the initiator of the Running Festival in Krynica and Chairman of the Organizing Committee of the championships. – A warm welcome to Krynica. I wish you success in the championships and a great time – said Z. Berdychowski to nearly 350 competitors, who arrived here to win medals and world champion titles.
The competition during the World Mountain Championships in Krynica-Zdroj 2013 will be organized in Anglos-Saxon style (uphill and downhill run). The venue will be the massive of Jaworzyna Krynicka Mountain, where a demanding, but also specific route has been marked out. – Competitions in Anglo-Saxon style mountain running usually begin with uphill and end with downhill runs. Here, it will be the opposite – said Andrzej Puchacz.
Juniors will run in the distance of 4.65 km with elevation/ declination of +286 / -276 m. Juniors and seniors will compete in the distance of 9.08 km and height difference +561 / -551 m. The longest and toughest route will be prepared for seniors - 13.56 km with elevation +838 / -828 m.
Who is expected to be the winner of the championships? According to Andrzej Puchacz, among female junior runners the favourites are Turkish runners: Çesminaz Yillmaz and Burcu Subatan, Melanie Albrecht from Germany and Julia Lettl, Lea Einfalt from Slovenia and Annabel Mason from the United Kingdom. In junior men category the front-runners are: Adem and Ramazan Karagoz from Turkey and representatives of Italy: Michele Vaia, Nadir Cavagna or Gianpaolo Crotti. – A few other national teams also stand a good chance for medals – explained the representative of Poland in the Board of WMRA.
Among seniors, we will see competition between five-time silver medallist of world and European championships, Valentiny Belotti from Italy with Marie-Laure Dumergues from France and Elisa Desco from Italy, who is returning to big competition and also Mateja Kosovelj from Slovenia, who demonstrated a good form recently.
– The favourites in men's run will be in turn brothers Bernard and Martin Dematteis, Alex Baldaccini and Xavier Chevrier from Italy, the national team of Uganda and Geoffrey Kusuro from the USA with Max King, the champion in 2011 and the national team of Turkey composed of younger runners and 6-time European champion Ahmet Arslan. A good chance has also the French team, which is strong as usually – forecasted Andrzej Puchacz.
Polish medal favourites will be Dominika Wisniewska-Ulfik and Anna Celinska among seniors, and junior runners: Magda Dias, Agnieszka Filipowska and Damian Sator.
The championship competition begins on Sunday, the 8th of September. The first at the start line will be junior women (at 9:15). Junior men will begin their competition at 10:00, senior women at 11:30 and senior men at 12:30.
---
Dear Ladies and Gentlemen,
It is a great honour to welcome the elite of world mountain running to the Running Festival. In the same time, we are glad that our effort at organization of the Running Festival was noticed and that we were entrusted with organization of 29th World Mountain Running Championships in Anglo-Saxon style.
Despite being one of the youngest sport events in Poland, the Running Festival has already joined the group of the biggest events of this type. More than 4000 runners in the age from 5 to 75 competed in more than 20 distances in the 3rd Festival in 2012 as the Festival is an event, where everyone can find something for himself. The youngest runners compete in mini-marathon, while running enthusiasts meet on the route of Lifetime Ten and Coral Marathon, the most assiduous try their luck in IRON RUN or relay race and the toughest runners compete in 7 Valleys Run or 100 km ultra marathon leading along the routes of the Beskids. We will meet exactly here, on the top of Jaworzyna Krynicka Mountain, to cheer for the best mountain runners in the world. I'm convinced that the beauty of the Beskids nature will strengthen impressions from competition among the champions and stay in their memory for a long time.
On my part, I can add that the organizers will do their best to make runners and trainers feel at home during the Running Festival in Krynica-Zdroj so that nothing could hinder their great sports competition.
Zygmunt Berdychowski
---
The 29th WMRA World Mountain Running Championships will be held on 8th September 2013 at Krynica-Zdrój, a typical tourist town located only 150 km from Cracow and situated in a picturesque mountain area in the south of Poland.
The World Mountain Running Championships 2013 will be held during the Running Festival of the Economic Forum on the Jaworzyna Mountain. Jaworzyna Mountain is located in the heart of the Poprad Landscape Park and it is the highest peak in the Eastern part of Beskid Sądecki mountain massif. The Gondola carriage to Jaworzyna Mountain is the longest and most modern railway of this kind in Poland.
It is the first time that the WMRA World Mountain Running Championship will be held in Poland and is the result of hard work started many years ago. It began in 2000 when Miedzygorze hosted the sixth WMRA European Trophy and then in 2004 when the third EA European Championships was organised in Korbielow. Also we must not forget that - on two occasions - Poland organised the WMRA-WMA Masters World Mountain Running Championships (in 2001 at Ustron and in 2010, once again, at Korbielow).
Polish athletes, especially in the women's category, have always been at the world top level.
As President of the World Mountain Running Association and on behalf of the members of the WMRA Council, I want to offer the warmest welcome to all those who will participate in 29th WMRA World Mountain Running Championship in Poland.
The races will be unforgettable for those attending: VIP's, athletes, coaches, officials, media and spectators! The WMRA are certainly happy of the organisation and that it will also be appreciated by the IAAF, its President, Lamine Diack, its General Secretary, Essar Gabriel, and – above of all - Pierre Weiss, IAAF President's Adviser and WMRA Council member of Honor: The IAAF – also in 2013 – will give, as always, its contribution to ensure the success of the Championships for which the WMRA gives its thanks.
I also wish to thank – in the name of the WMRA - all those who have made possible the organization of 29th World Mountain Running Championship 2013: first of all, Irena Szewińska, member of International Olympic Committee, and PZLA, with its President, Jercy Skucha, and of course, the Chairman of LOC, Jerzy Bochyński. Special thanks to Andrzej Puchacz, who in Poland was the first man who believed in this discipline of athletics! Of course, nobody can forget the work of WMRA Delegates: Galia Puhaleva, WMRA Organizational Delegate, and Wolfgang Munzel, WMRA Technical Delegate.
Finally, I thank the sponsors (always fundamental for the accomplishment of a successful event), the media, both journalists and television for their support and all those who provide and collaborate the voluntary services to ensure a successful and memorable occasion for everyone that will participate in 29th WMRA World Mountain Running Championship.
Mountain running racing is a discipline that excites athletes individually but emphasizes also the force and the spirit of a team, of a Nation, contributing together pledging their ultimate efforts for the possibility of athletic success.
For the 29th WMRA World Mountain Running Championship 2013, the most cordial greetings from the WMRA goes to all the National teams, to the Managers, to the Technicians and to the Athletes and the belief that in Poland another important moment for the growth of mountain racing will occur.
Good luck to everybody!
Bruno Gozzelino
WMRA President
---
Ladies and Gentlemen, Dear Guests!
Let me cordially invite you to Krynica-Zdrój.
Our town is a famous health resort with over 200 years of history, where the traditions of treatment in a health resort adjoins with rich traditions of winter sports and active rest. Here during the interwar period the Ice Hockey World Championship and Sledging World Championship took place. Also after the World War II the World and European Sledging Championships were held here twice while in the year 2001 during the Winter Universiade our ice rink served as an arena for short track and ice hockey competitions. Since 2010 Krynica-Zdrój has been a proud host of the Economic Forum Running Festival.
I wish all the participants of the World Mountain Running Championship the fulfillment of their sport goals and the fair play spirit during the whole competition.
To all the guests and spectators I address my best wishes for unforgettable emotions, a wonderful atmosphere of true sport celebration and a pleasant stay in our beautiful town.
Mayor of Krynica-Zdrój
Dariusz Reśko, Ph.D.
---